Jade Roller Beauty™ - Jade Roller SPA - Mint/Olive (1 piece)
---


---
A facial massage tool crafted from pure jade that smooths the appearance of fine lines and wrinkles.
Are you in need of relaxing and cooling facial care? Do you need a tool thats not only satisfying to the skin but also healthier in terms of blood flow and glow? Well introducing the JadeRollerBeauty™ also known as The Jade Roller Spa.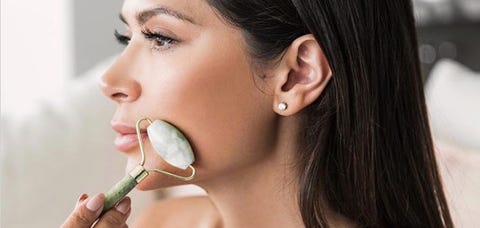 Product Details:
 Jade Roller Beauty's Jade Roller SPA draws inspiration from traditional Chinese medicine and leaves your skin feeling younger and looking healthier. Crafted from pure Xiuyan jade stone, this hand-held device boosts collagen production, improves the benefits of serums and flushes out toxins for a smoother-looking complexion. More heavy-duty than the original Jade roller, its shape penetrates muscle tissue more deeply for a calming experience.

Key Ingredients:
Xiuyan Jade Stone: known to relax the nervous system and aid in the removal of toxins. Jade represents health, wealth, longevity and prosperity.

Key Benefits:
Smooths fine lines
Enhances benefits of serums
Flushes toxins via lymphatic drainage
Stimulates collagen production
Boosts elastin

Tip: Use daily and nightly after cleansing to optimize your self-care ritual. Place inside freezer and use on the under-eye area to constrict blood flow and reduce the appearance of dark circles. Use over your favorite serum to enhance benefits.
Professional Tools and Devices: Anti-aging tools and devices
Ideal for these Concerns: Aging Skin, Puffiness, Hyperpigmentation, Fine lines and wrinkles, Crows Feet, Loss of Firmness
Ideal for these Skin Types: Dry Skin, Combination Skin, Normal Skin, Sensitive Skin, Oily Skin, Mature Skin, Acne-Prone Skin
Preferences: Vegan, Fragrance
Application Area: Decollete, Scalp, Neck, Cheeks, Face
Jade Roller Beauty - Jade Roller Spa
How To Use 

 Cleanse skin. Apply favorite serum. Our dual-sided roller allows for flexibility in usage. Smaller rollers are best for the eye area and temples. Larger size rollers are good for cheeks, forehead, and neck. Directions: Gently roll your JADE ROLLER BEAUTY tool over freshly cleansed skin 2-4 times daily for 5-10 minutes. Can be used on clean skin or over serum. Using over a serum will help that serum penetrate more deeply into the skin due to the increased blood flow. Forehead: Move from the center of the forehead beginning at the hairline, rolling towards the ear, down to the temple. Repeat 4-7 times. Focus attention on fine lines and eyebrow furrow. Eyes: Use the small roller to tone the lids and under-eye area. Move from the inner corner of the eye area to the ear. Nose, Lips, Chin: Use larger roller to work from the nose out to the ear. Continue with the upper lip, lower lip, and the chin. Roll along the lower jawline of the chin, making your way to the ear lobe. Repeat on the other side. Jawline and Neck: Start at chin and swipe upward toward cheekbones. Make sweeping motions up under the chin towards ears, then down the neck toward the collar bones. For sinus pressure: Use a warmed washcloth and place over your nose, forehead, and cheekbones. Roll the small roller from the center of your face down either side of the nose, finishing toward the cheek bones.
🚨 GRAB YOURS WHILE EVERYTHING IS STILL INFRONT OF YOU 🚨  
---
REAL THEGENIEHEALTH.COM REVIEWS
Female
Skin Type: Combination
Skin Tone: Fair
Age: 30-40

---
KD
from Alva, FL
Verified Purchaser

02/04/2020
Very relaxing...
I think this product is relaxing, decent results. Try using morning and night for skin relaxing feeling. It'll feel like you have more face movement throughout the day.
⭐⭐⭐⭐⭐
Female
Skin Type: Combination
Skin Tone: Medium
Age: 30-40

---
Val
from Chicago, IL
Verified Purchaser

01/24/2020
Very Pretty Roller
Beautiful roller - feels amazing especially when a little extra puffy around the eyes. Gives you a blemished face all around.
⭐⭐⭐⭐⭐
Female
Age: 20-30

---

from Gurnee, IL
Verified Purchaser

01/18/2020
Roll carefully
A good and sturdy product, doesn't work any miracles and will leave bruises on your forehead that last for days if you roll too aggressively. Worth it more for the therapeutic aspect than anything else.
⭐⭐⭐⭐
Female
Age: 20-30

---

from San Diego, CA
Verified Purchaser

01/03/2020
Love my roller!
Works miracles if you use correctly with a gentle motion and will put you in a calm, cool relaxing mood surprisingly. 
⭐⭐⭐⭐⭐
Female
Age: 20-30

---

from Houston, TX
Verified Purchaser

12/28/2019
Soothing motion

As you roll in vertical motion around the face you will start to feel the blood flow being evenly distributed throughout the face for a less tense and relaxed face movement. Very useful in the mornings to start your day:) Thank you!
⭐⭐⭐⭐⭐
-
*Press The Add To Cart Button TO Get Yours Now*