Banglet™ - Key Ring Wristlet
---


---
A high quality keyring wristlet designed for a casual fashionable touch to compliment your everyday look.
The perfect accessory for every woman for easy, convenient access to your keys. Carabiner design makes it easy to attach to a bag, luggage or purse. Large bangle design makes it easy to hold onto or slip on your wrist.

This leather wristlet keychain comes in a variety of colors and makes a great gift for anyone.

Leather Bracelet Key Ring

Made of high quality PU leather, the delicate and playful tassel pendant can be removed at any time.

The key ring is lightweight and flexible, very soft and comfortable to wear, it's a great way for you to keep up with your keys and the leopard tassel leather keychain looks so pretty and fashionable too!
Keychain Bracelet
Try a new and fashion lifestyle , Never lose your keys!

The wristlet keychain is designed to easily slip onto your wrist,these oversized bangle keyrings can be worn on your hand or attached to your bag.

Perfect for every women, girl, kids and men. Or give it to your mother, sister or friends as a gift on special day. No one can refuse such a thing that is both fashionable and practical.
Oversize Design
It's the size of a large bangle. The internal diameter is 3 inches, it's much bigger than your wrist and can even reach your shoulder, but that's what makes it unique.

Easy to slip onto your wrist and great for finding your keys quick in the bottom of purse or anywhere in your car or home.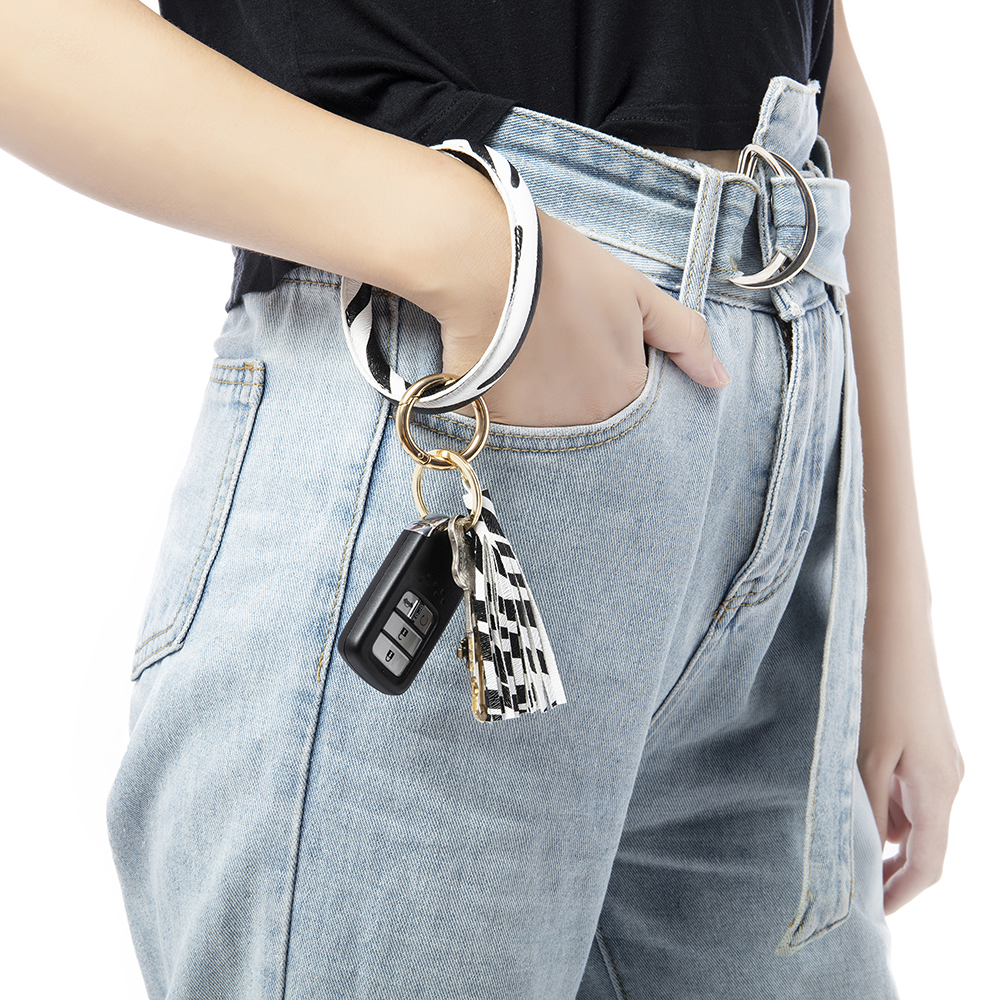 Quick Remove
This wristlet keychain is portable and removable, you can quick removal at the valet or when letting someone borrow you keys.

You can put in your bag or hung on a door knob. Lightweight keychain is the perfect addition to any key ring, backpack, or travel bag
Gift for you
A

ll parts of these keychains are made of lightweight and high-quality materials, durable enough.
If you are not satisfactory with our service or products, email us customer support 24/7 Monday-Saturday 8:00am - 9:00pm
---
🚨 GRAB YOURS WHILE EVERYTHING IS STILL IN FRONT OF YOU 🚨  
---
REAL THEGENIEHEALTH.COM REVIEWS
Verified customer: Carrie Lunsford
Date Purchased: 01/20
⭐⭐⭐⭐⭐
---
It goes so perfect with my keys! I even got it to match and compliment my purse!
Verified customer: Gabriella Miller
Date Purchased: 01/20
⭐⭐⭐⭐⭐
---
This comes in handy wherever I go!!! Never lose your keys again 
Verified customer: Jennifer Guzman
Date Purchased: 12/19
⭐⭐⭐⭐⭐
---
Easily holds around your wrist in a stylish fashion:)
Verified customer: Michelle Jones
Date Purchased: 12/19
⭐⭐⭐⭐⭐
---
My favorite is the cheetah print! Matches whatever I wear when I leave the house xD
Verified customer: Mattie Huff
Date Purchased: 10/19
⭐⭐⭐⭐⭐
---
This is the new style! I really love my wristlet! It can also attach to your purse:)
-
*Press The Add To Cart Button TO Get Yours Now*